Greetings to all!
You are cordially invited to array yourself in your best gear and join us for the Sunday Steampunk Salon, Sunday, January 16, 2011 · 3:00pm - 8:00pm, featuring witty conversation, games galore, excellent music, and all the steampunkery we can muster. Food and libations will be available for purchase from Sidetrack next door.
All are welcome, and there is no admission charge. We do hope you can join us.
All the best,
Professor Hazel Sterlingwood
Captain Lucinda Dreadnought
Endymion B Hollingsworth, Esq
Professor Tobias Alistair Kettenrad
and Friends
The venue:
Frenchie's
56 E. Cross Street
Ypsilanti, MI
http://www.sidetrackbarand

grill.com/frenchies/
Facebook page:
http://www.facebook.com/?sk=events#!/event.php?eid=160224200686340
(Posted for a friend)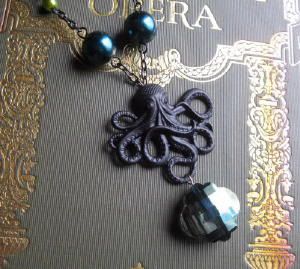 Take 20% off all items in BOTH my Etsy and ArtFire shops through Monday, December 6th with coupon code LJDEC2010

http://moiracoon.etsy.com
http://moiracoon.artfire.com

Interested in my work, but can't justify spending money on yourself during the holidays? In my ArtFire shop, you can add my pieces to your Amazon Wish List by clicking the "Add To Amazon Wish List" link along the left side of each item screen to let friends and family know what you're wishing for!

Next Weekend
Prepare to be boarded!
The Imperial Anti-Piracy Squadron
will be at
Teslacon




FRIDAY

2PM-4PM
G.D. Falksen
Introduction to Steampunk
in
Tesla 2 Room

4PM-5PM
The I.A.P.S. Presents
Character Building
in
Tesla 2 Room


(

The rest of The Imperial Anti-Piracy Squadron's Friday ScheduleCollapse

)



SATURDAY

8AM-9AM
Graf Georg von Ziger Presents
Morning Calisthenics
in
The Lobby

9AM-10AM
The I.A.P.S. Presents
Airships: Or How I Learned to Stop Worrying and Love the Zeppelin.
in
Tesla 1 Room

11AM-12PM
The I.A.P.S. Presents
Grooming for the Steampunk Lady
in
Tesla 1 Room


(

The rest of The Imperial Anti-Piracy Squadron's Saturday ScheduleCollapse

)





Does anyone happen to have pictures from the Charity Masquerade Ball? I didn't get to take very many and I can't find them anywhere else.
Greetings everyone!
Don't have anything left to finish and wish to give a hand? Come on down and help out, or simply join in for good conversation. Its a nice way to break the ice before and during the expo, and it beats sewing alone in your hotel room.
Just a day away folks, we look forward to meeting you, and your expectations.
~Arthur
http://www.worldsteamexpo.com
Its the eve of the expo and many of you are working to complete your outfits in time. Not sure if you will be able to finish your projects in time? Then have no fear, the Stitch n' Bitch is here. That's right, we have several slots in our programming, starting Thursday evening where you will have space and time to put those finishing touches on your attire, all while meeting new people left and right.


Talk with people about your ship and see if they have what it takes to be a part of your crew. Talk with other ship captains and build lasting relations(or build new rivalries). If you would like to have a part in the job fair, contact skymarshal@airshipleague.net to request a space or to get more details.
Got an airship? Need a crew? Then have no fear, the ILA is here! Come promote your ship, interview crew, and be a part of our job fair! Join the International League of Airships as they host the world's first Airship Job Fair!


Hailing from London, we bring you one of the greatest Steampunk bands that Great Britain has to offer, and often cannot contain, 'The Men That Will Not Be Blamed For Nothing'. We are also proud to welcome our very special guest, Grave Robber himself, Terrance Zdunich, the co-creator of Repo! The Genetic Opera!

There are still many more groups and individuals that we have yet to announce, and that is not the half of it. Many new events on the horizons, with more content being added constantly. Have we mentioned that we have a new appearance? We have just completed our brand new website, and we couldn't be more pleased. So much content to bring to you, so much more that we have in store, just for you.

Along with our updated web presence, due to popular demand, pre-registration has been extended to the end of Friday, the 23rd, so you have two days left to get your advanced tickets for our 5-day exposition. Much still on the horizon, including full details on many of our special events such as our Midnight Carnival, Repo Shadowcast, Victorian Swimsuit contest, and special movie screenings. Its one amazing weekend that you won't want to miss. Again, we look forward to meeting you, and your expectations.
So many updates, so much to go over. First off I would like to announce our next round of guests and presenters. First we would like to introduce one of Steampunk's greatest icons, the ever so fantastic Evelyn Kriete. Hailing from Chicago, we bring you fabled Steampunk Tales artist Miss Monster. Amy Williamson of the League of Extraordinary Paranormal Women will dazzle and delight audiences with tales of the supernatural and the beyond. Join us at our Charity Masquerade Ball with the enchanting musical talents of Harpnotic. Outland Armour will guide you through workshops and wonders, while Frenchy and the Punk, AKA The Gypsy Nomads bring you a provocative and theatrical night of music and excitement. And come witness the excitement and adventure that The Vagabonds bring for your very amusement.
Still looking for something to do over the weekend? Something Steampunk? Then ladies and gentlemen we have more going on. From our friends at Noir Leather we bring you "FULL STEAM AHEAD! A Steampunk Extravaganza and Fashion Show!!"
Tix $5 in advance @ Noir Leather ($8 at the door)
Saturday March 27th starting at 9pm
Blondies
2281 W. Fort St.
Detroit MI 48216
http://www.facebook.com/#!/event.php?eid=366583147429&index=1
We hope to see everyone there.
Hello again my friends, how are you all doing? It is with deep regret that we have to postpone the Brass Spring Ball due to factors beyond our control. For those who sent payment in advance, a full refund will be issued and later will receive a special gift from WSE as thanks for their support.
We would like to cordially invite you to join us at the King's Court Castle for the World Steam Expo's pre-season premiere gala, the Brass Spring Ball! This is a delightful opportunity to meet, greet, and be a part of the who's who of the Michigan steam gentry. The ball will give you wonderful opportunity to show off your finest wares instead of hiding them at home while being treated to some of the finest music of the age. A full course meal is included with your invitation. Make your mark in society by joining us for an evening of dinner, dancing, and celebration to kick off the new season!
Doors will open for you at 6 p.m. until 11 p.m.. Dinner will be served at 7 p.m.
The menu is attached for your convenience so you know what you may look forward to.
Price for the evening of dinner, dancing and innovation: $50 per individual, or $90 per couple.
We await to see you there!
http://www.worldsteamexpo.com
Attention Ladies, Gentlemen, and Airship Officers,


Right now we have new events on the horizon such as our Victorian Swimsuit Contest, rules and regulations for the Mad Science Fair, Space Race, late night programming, more details on our charity ball, as well as more details on Greenfield Village and the Henry Ford Museum. There are more guests to announce, and even more going on.

This year is the start of a new decade, we're going to kick things up more than a few notches. Once again we look forward to meeting you, and your expectations.
Hello my friends near and far. There is so much that I would like to tell you, but today there is much that I will. We've been working hard to bring you an event like no other, and that's exactly what we intend to provide. Right now there are 2 days left to get in on our early bird special on registration and you won't want to miss out on the chance to save on all 4 days.